In less than two weeks we will all be centered around the seder table, surrounding ourselves with family or close friends and celebrating Easter – which for the past two years we have had to celebrate in a limited way. This time, in order for the holiday table to be filled with delicious and varied delicacies that will appeal to the palates of all bran, the popular Instagram page "Israeli Cuisine", which includes the most successful bloggers on the Internet, has compiled for us some kosher and festive recipes that will resonate the meal on several levels.
Citrus and aromatic goose market Food blogger's grandmother, Bar Fireman, used to make a winning citrus chicken recipe with plenty of herbs for every holiday. Bar, whose grandmother had engraved her deep in her heart, took the recipe she had grown up with, substituted chicken at the goose-market and added all sorts of surprises:
Raw materials:
goose legs
Rosemary and thyme
purple onion
white onion
leek
whole head of garlic
Colorful carrots / sweet potatoes
To prepare the sauce:
Advocate Gaz explains: This is why Netanyahu's defense lawyers are concerned about Bilber's testimony
2 oranges – one for juice and the other cut into slices
a glass of red wine
1 teaspoon of mustard granules
2 tablespoons ceylon
pomegranate center spoon
tablespoon lemon juice
chili flakes
Two slices of ginger
tablespoon brown sugar
white pepper
salt
Preparation:
Rinse the calves well with water and dry them completely.
In a large saucepan, brown the veal with a little olive oil until well browned on both sides.
Then sear the carrots/sweet potatoes and onions until they turn brown – leave the shallots intact and cut the purple onions into wide rings.
Meanwhile, prepare the tagine (I used a GALA pot) – place a bed of fresh herbs on the bottom and top with baking paper.
Put the goose legs on top. Arrange the onions and carrots/sweet potatoes around the stems. Put a whole head of garlic in the center of the pot and open it from the top.
In a bowl, mix all the sauce ingredients and pour over the goose and sprinkle the orange slices over everything.
Close the tagine and put in the oven for an hour and a half or two hours.
Make sure the goose is soft and return the tagine to the oven uncovered for 10 minutes until the goose gets a nice brown color.
candy bowl Plums and dried apricots stuffed with meat, on a bed of caramelized meat, food blogger Chen Burts' recipe:
Raw materials for meat mixture:
1/2 pound minced meat
1/4 bunch chopped coriander
1/4 bunch chopped parsley
finely grated onion
3 tablespoons olive oil
Teaspoon salt
A teaspoon full of tar
1 teaspoon of turmeric
1/2 teaspoon black pepper
Convert to a homogeneous mixture
I am using a 28 liter Rosso pot (available on the Cook & Bike series)
We will also need:
Dried Apricots
Peach without pruning
Preparation:
Cut 5 onions into thin slices and heat them in a saucepan with olive oil.
When browning onions add: 1 tablespoon of dark brown sugar, 1 teaspoon of turmeric, a pinch of black pepper, 3 cinnamon sticks, and 1/3 cup of sesame/honey.
Mix everything until you get the consistency of onion jam.
Fill the peaches and apricots with meat, arrange in a saucepan in circles, pour 1/4 cup water, sprinkle the walnut halves and cook until liquid and turn brown, can be put in the oven for 10 minutes for grilling before serving.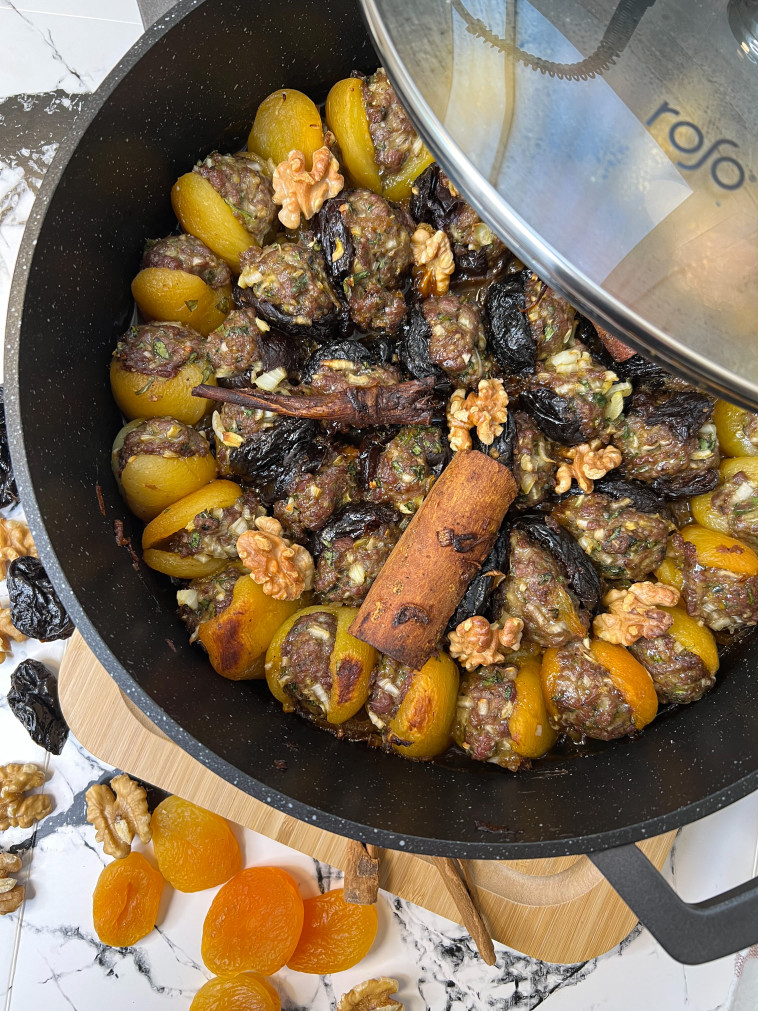 Fish pies with Moroccan sauce From blogger Ran Halifa's recipe
Raw materials:
1 kilo of coarsely chopped white fish (mosar / puri)
2 bunches coriander
parsley
2 peeled tomatoes cut into cubes
peel of one lemon
matzo flour
4-5 peeled potatoes
2 gamba (or hot peppers)
Carrots, cut into slices 3 cm long and 1 cm thick
A bunch of green onions
Whole garlic cloves, peeled
Dried peppers (2 sweet/2 hot)
Very stacked spoon Arisa
tablespoon pickled lemon
a cup of water
A spoonful of smoked paprika – I only use high-quality finance seasoning
spoon of hot paprika
sweet paprika spoon
1 teaspoon cumin
½ teaspoon turmeric
sugar spoon
12 hairs of saffron
Half a tablespoon of salt
canola oil
Optional: coriander, cumin, ground fennel seeds – 3 tablespoons
How to prepare pancakes:
In a large bowl put 1 pound of coarsely chopped fish, 5 sprigs of chopped parsley, 5 sprigs of chopped cilantro, grated 1 lemon, 3/4 cup of Matsa flour, salt (generously), pepper, a pinch of cumin and turmeric (you can add 2 tablespoons Two large – coriander seeds, cumin, ground guacamole).
Cut the white part of the green onion, fry with a little olive oil until golden, then add it to the pot.
Chop the green part and add to the bowl (half a cup).
Mix everything and mash it with your hands to form a sticky mass.
Chill for an hour.
Then cook the carrot pieces in a small pot with 2 cups of water, the juice of half a lemon, half a tablespoon of salt, and half a tablespoon of sugar.
Bring the mixture to a boil, then reduce to a low heat.
Cook for 25 minutes, until the carrots are soft but not too soft.

Do not pour liquid into the pot!!

Peel the potatoes, and cook in plenty of salted water with 12 strands of saffron, about half an hour until tender.
Cool and cut each potato in half.
How to prepare the sauce:
Pour a quarter cup of oil into the saucepan, put the gamba slices in it, put on a low heat and cook for 10 minutes until the pepper looks soft. Raise the heat to medium, add the carrot sticks and fry for 5 minutes.
Turn the center of the saucepan over and put: 1 tablespoon of sugar, 1 tablespoon of arissa, 1 tablespoon of lemon, 1 tablespoon of sweet paprika, mix everything.
Add the peeled garlic cloves, chopped tomatoes, potatoes and dried pepper (cut them in half).
We add the liquid in which we cooked the carrots and another glass of water.
Add a handful of chopped coriander.
In a small bowl, mix well 3/4 cup canola oil, 1 tablespoon hot paprika, 1 tablespoon smoked paprika and ½ tablespoon salt, then pour into saucepan in a circular motion, working down to all areas.
Bring to a boil, over low to medium heat and cook with the lid closed, about 20 minutes.
Stir occasionally and flip the pot.
Back to pancakes:
Remove the mass from the refrigerator, spread a little oil on the hands, and sprinkle the pancakes a little larger than a ping-pong ball.
Heat the oil in a frying pan.
Put the matsa flour in a bowl, cover the pancakes with flour, and when the oil is hot, put them in a frying pan and fry. When the pancakes are golden, remove them to a colander (preferably) or on a surface with absorbent paper.
Add the pancakes to the sauce just 5 minutes before serving.
Make sure that the sauce coats it on all sides.
Success:
In each bowl (wide) put 2-3 pieces, 2 potatoes, a little pepper and garlic.
Pour 3-4 tablespoons of the sauce.
Sprinkle a little lemon over the whole dish (a must!) Sprinkle with coriander leaves and serve.