Every once in a while, I like to go back to favorite and familiar flavors I haven't made in a long time. For example, artichokes are my companion that I do not give up on holidays. It doesn't have to be stuffed. Rinse with water and serve alongside sour sauces. Then peel the leaves, dip them in the sauce and eat the fleshy part of the leaves. Dessert was in my childhood home, at the end of a meal as rich and heavy as a seder.
More recipes on Pascal's cooking site
I'll never forget our hands that were painted black when we cleaned my late mom Esther's artichoke leaves, until we discovered the delicious meatballs. Artichoke hearts according to the delicacies you made: This is the filling, this is the perfect artichoke broth, and the less beautiful they send for the salad. Today I chose to present you a salad made with fresh, sour artichoke hearts. This is an easy to prepare, distinctive and rich in sour taste.
The second recipe I chose to refer to is onion soup, which has many variations. The version shown here is a favorite of my family members, especially my kids. I often choose to set it up using different shortcuts, with results that also surprise me. In my opinion, it is one of the most elegant, distinctive and easy to prepare soups. I usually make the toast myself. I have attached an easy recipe for you to try.
The third recipe that I have chosen to offer you is presented here at the request of my family members, who are, like all young people, on social media, and where cinnamon snails have recently appeared. I picked up the gauntlet and made my coveted Cinnamon Swirls, or as they're known as Cinnabon, with a soft, fluffy, butter-based yeast dough with lots of cinnamon and sugar that turns into a sweet-smelling caramel. I was expecting all this goodness in cheese and yogurt.
Before you make the cinnamon, there are two things you should know: The toppings are yogurt-based, but you can only make them with rich cream cheese (it only saved a few calories). The second thing is that you can turn cinnabar into fur, if you replace the butter with "compliment" or oil and do not brush with cheese. The smell of cinnamon and the sweetness of sugar in a yeast pie will actually do the job.
Cinnamon Snails Topped With Vanilla Cheese Yogurt
Materials (for a 25×25 cm square mold):
25 grams fresh yeast
• 1 cup lukewarm milk
• a cup of sugar
• 4 cups of ground flour
• 2 eggs size L.
• 1 teaspoon of fine vanilla extract or grated lemon peel
• ¼ teaspoon salt
• 100 grams of butter, at room temperature, cut into cubes
for dispersal:
• 1 cup regular or dark pressed sugar or a combination of the two
• 3 full tablespoons of cinnamon
• 100 gm of very soft butter
(which can be applied with a brush)
To coat the yoghurt with cheese:
• 50g butter at room temperature
• Packages of Philadelphia cheese at room temperature
• 1 cup of natural yogurt (150 g)
• 1-2 drops of vanilla extract (not necessary)
• ½-¾ cup of powdered sugar to taste
to prepare:
Put the yeast, milk and sugar in the bowl of an electric mixer, mix them a little and leave them in the bowl for 10 minutes. Add eggs and mix with a hook for kneading. Add flour while stirring. Add vanilla extract and salt. While stirring, add the butter cubes alternately – each time a cube until it is well absorbed into the dough. Keep kneading for 10 minutes or until the dough becomes homogeneous. Cover the dough with cling film and let it rise for about an hour, until it doubles in size. In a separate bowl, mix sugar and cinnamon.
Mix all layers of paint in a bowl with a paddle or hand mixer, until a homogeneous and smooth consistency is obtained. Keep it in the fridge. Flour a work surface with a little flour and roll the dough into a wide rectangle ½ mm thick. Spread the softened butter over the entire dough, sprinkle with sugar and cinnamon and gently press with your hands to the surface of the dough. Roll the dough from the side closest to you to the side farthest from you. Cut the roll into 12 to 14 slices, depending on the mold you're using.
Place baking paper in the tray and arrange the slices on their wide side so that you can see the dough spiral with cinnamon, like slices of a snail. Set them aside and let them swell for another 20 minutes. Bake in a preheated oven at 180° for about 25 minutes, or until well golden and browned. We take it out of the oven. Crush the toppings well that we keep in the refrigerator and spread it over the apple juice with a spoon or spoon and serve.
Difficulty: medium
Preparation time: about an hour and a half
Dish type: dairy
French onion soup
Ingredients (8-6 servings):
• 100 grams of melted butter
4-5 (500 g) large onions, thinly sliced
• 3 tablespoons of sifted flour
• 3 tablespoons onion soup powder (without MSG and preservatives)
• 8 glasses of water
• Salt and pepper to taste
• 1 cup yellow cheese or other shredded cheese
• moss leaves (marjoram) or rosemary for decoration
For toast:
• 6 slices of toasted black bread
• a little olive oil
• 1 crushed garlic clove
to prepare: Heat the butter in a long, wide saucepan and fry the onions until translucent. Add flour and stir quickly. Add soup powder and water and mix. Lightly season with salt and pepper, bring to a boil, cover and simmer for 40 minutes. Stir occasionally.
To make the toast: Cut the toasted bread slices into cubes, put them on a baking tray and pour a little olive oil and garlic on them. flip over. Bake in the oven for 3-4 minutes at 250 degrees.
surrender: Pour soup into fireproof bowls, and sprinkle over 2 to 1 tablespoons croutons and a little cheese. Roast on the grill for 4-5 minutes at 250 degrees, until the cheese is creamy. Garnish with moss or rosemary, if desired.
Difficulty: easy-medium
Preparation time: about an hour
Dish type: dairy
Artichoke heart salad, mushrooms and walnuts
Ingredients (8-6 servings):
• 4 large artichoke hearts, cut in half, each half into thin slices, soaked in a little lemon juice
300 g (1 basket) Jordanian mushrooms, finely chopped
• 1 jumbo, cut into 1 cm thick slices
• 3 celery sticks, thinly sliced ​​sideways
• 1 purple onion, thinly sliced
• 1 cup walnut halves
• 2 crushed garlic cloves
To prepare the sauce:
• Juice from 1 lemon
• 1 tablespoon of honey or sesame seeds
Coarse salt and pepper to taste
• 2 tablespoons olive oil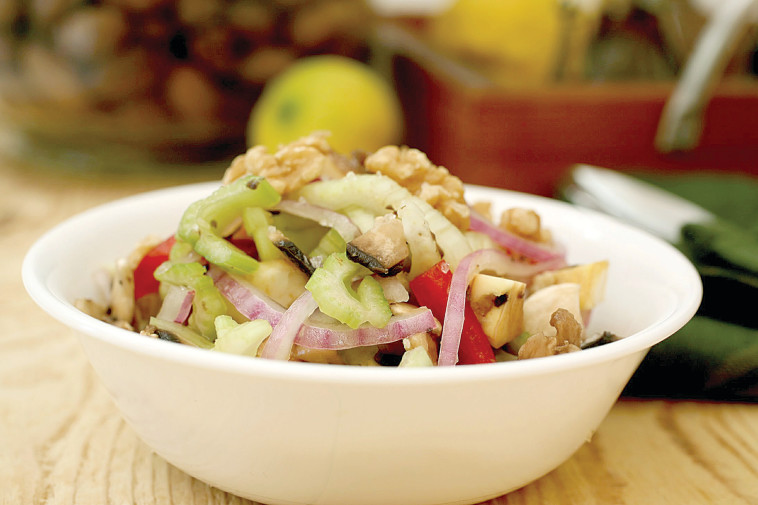 to prepare:
In a wide bowl, combine sliced ​​artichoke hearts, mushrooms, zucchini, celery, and onions. Put all ingredients for the sauce in a tightly closed jar, seal and shake. stay aside. Next to serving, pour the sauce over the vegetables. Mix, taste and adjust seasonings. Add nuts and garlic, stir, and refrigerate or serve immediately.
How to clean artichokes? First pluck the outer leaves (you can bite off the fleshy part). Remove the soft inner leaves and the hairy part with a knife. Rub the hearts with lemon to prevent them from turning black, and cut them into sickle-shaped slices.
Difficulty: easy-medium
Preparation time: about half an hour
Dish Type: Fro