Studying in academia is one of the most important tools for success in life. Studies provide students with knowledge and skills that are difficult to obtain elsewhere. However, many of those who wish to integrate into studies find it difficult to lead a student lifestyle that includes multiple hours of study during the week, coupled with few working hours or the ability to hold a gainful job.
Almost every student is familiar with the following situation: the apartment is closed but the headache is not over yet. "Where do you get a sofa?" , "Where do you get a refrigerator and a bed?" According to statistics, the cost of moving an apartment for a student reaches several thousand shekels and sometimes it is a budget that you do not remember taking into account at all.
In addition, a large percentage of students live away from the institution of study and when there are no adequate transportation solutions, they own a private car and incur additional costs such as purchase, maintenance, treatments and the ever-rising fuel cost. This alone can cost about 2,500 shekels per month. Add to that the fact that most students have part-time jobs that fail to support them properly and you've got the perfect recipe for financial survival on a monthly basis.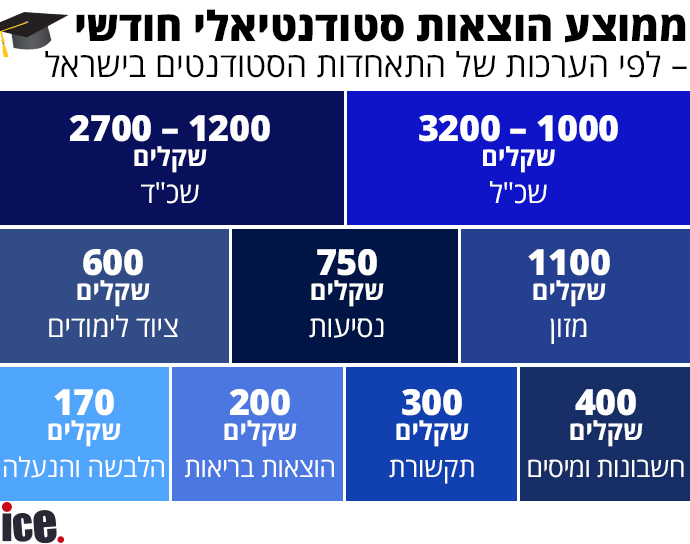 "Barely closes the month"
Ran, 25, an engineering student from the south of the country, talks about the difficulty of financing it in addition to the running expenses. "Every time the 10th of the month comes around, I find it hard to study. I know that a day will come and my chosen profession will be able to support me, but until then I understand how I will be able to close a month and pay the rent," says Ran in an interview with Ice. "There are weeks when I argue whether to buy myself a private lesson I need, and I go shopping for Friday."
Ran is not alone, according to a survey conducted by the National Student Association, in 2020, the average salary of a working student is about 3,900 shekels, most of whom pay rent. About half of the students (47 percent) live in their parents' home while they are studying and more than 20 percent of them have taken out loans during their school years to try to cope with the heavy burden of expenses. Often, students start their studies after receiving a scholarship or another that funds their years of study but requires them to move into an expensive apartment, to an area far from where they live, where they have to pay rent and other living expenses which are not always included in the scholarship scholastic.
Collaborative and cost-effective solution
In the past, dormitories were synonymous with low-level housing, chosen only with no choice and economic deficit. In recent years we have seen the opposite phenomenon – students get on waiting lists only to be able to secure a place in desirable dormitories that offer a space of choice and convenience that will satisfy their school years. Common spaces for study and leisure purposes, along with a strong and supportive student community.
Apartment relocation costs are high and burdensome for the student (Image Source: PEXLES)

Dormitories offer a cheap and comfortable solution without incurring the high costs of renting an apartment during your studies. In addition, there are other benefits of living in dormitories, such as a social and rich communal life with shared spaces, the formation of study groups, as well as proximity. Dormitories are usually located a short distance from the school and provide easy and simple access to the classroom without renting a car, and some even offer a subsidized transportation system that takes the student from the apartment to the classroom, at a price that would not be the case. Weighs on pocket.
The dormitories are equipped with the latest equipment from the gym level to the last fork in the cutlery drawer, everything is ready and furnished, which reduces transportation costs to zero. In addition, during the summer months in the dormitories, it is possible to rent the apartment for a short period between classes, thus not paying during There is no education.